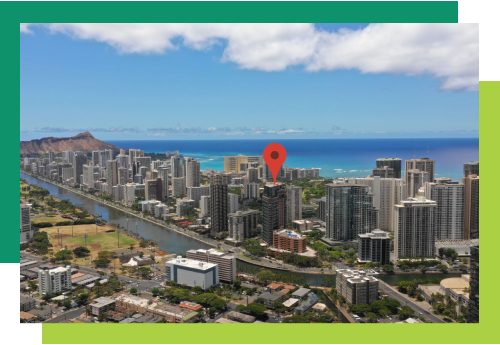 Private one-to-one and family counseling are provided at the Waikiki Landmark Building located at 1888 Kalakaua Avenue Suite C312 Honolulu, Hawaii 96815. Building parking is accessible from Ala Wai Boulevard and is $1.00 per hour (credit card only) when validated at our office. Both small office and family session rooms are available.
EVENING / WEEKEND HOURS
Wait in your car or outside the front door which will be locked and opened by your therapist at your appointment time.
What's the best way to find the guest parking entrance?
The entrance to the guest parking garage is on Ala Wai Blvd. If you're coming from McCully St, stay in the right lane. Once you pass the bridge before the intersection of Ala Wai and McCully, turn right onto Ala Wai Blvd and IMMEDIATELY get into the extreme left lane (the building is right there at the corner). Turn into the second driveway that says LANDMARK SHOPS above the entrance.
How do I find your suite?
Notice the doorway directly across the entrance as you drive in. Exit that doorway (do not enter the elevator in the garage). Upon exit you'll see escalators, go left to the elevator (next to Landmark Real Estate). Go to P3. When you exit the elevator you'll see Salon Cherie, go right and follow the maroon directional signs pointing to 312. If you enter the elevator from the parking garage. Here is a detailed office map to assist you.